For over 20 years, the Nelson County Community Fund has been a fixture in providing humanitarian and educational support through grants to local nonprofits. But in truth, what does it mean to give back to your community, and why do people do it? NCCF asked a few of our longtime donors as well as some new donors why they have chosen to support us.
Here's what they said:
Join the hundreds of your neighbors who are supporting the Nelson County Community Fund. Click here to go to our Donate page.
Thank you!
"We made our first small donation to NCCF shortly after we moved to Nellysford because we had heard from our neighbors that it was a very worthwhile organization. But then we attended a donor reception and heard first-hand from the people and organizations that were receiving grants. We heard how those grants were changing the lives of Nelson County residents and it just felt right to do as much as we could to help
"I think we've been donating since 2005. I remember going to the first NCCF event at Veritas [Winery]. NCCF has always been dedicated to assisting the less privileged. We feel grateful that we can afford to donate to the organization. NCCF's mission is sound and the monies they acquire are dedicated to those who need it, not to the infrastructure of the organization. Many of our friends have and still do volunteer to participate on the board, all donating their skills and time without compensation…a very worthy organization."
"Janis and I have been in Stoney Creek in May 2018. I'm sure I heard about NCCF via a mailing. The inspiration to donate was simply to give back. It's always better to give than to receive."
"I have lived in Nelson County for six years but had been visiting the area for the prior 17 years. I contributed to NCCF because I thought it was the best way to help a wide range of deserving neighbors in need."
"We've given to NCCF probably since its inception. Gordon Smyth, who helped get NCCF going, was a friend of ours. NCCF has donated to the NCCDF [Nelson County Community development Fund] for its emergency home repair initiative for many years… . The clientele is low income people. We are aware of the many facets of help NCCF has contributed to the community, such as accessing preventive health care, dental and vision care, and prescription drugs, paying rent and utilities, combating child hunger and promoting fitness, preparing for and affording college and many others. We also know several members of the NCCF board and believe in supporting organizations they serve."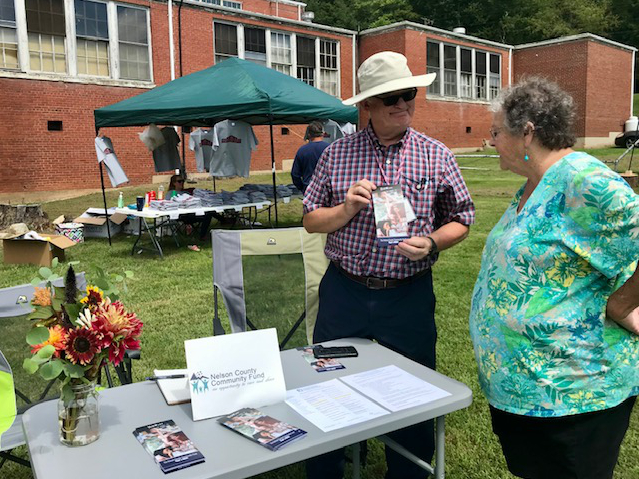 "We have lived in Stoney Creek for 19 years. We attended the very first NCCF benefit [in 2005] and I'm pretty sure we have been contributing ever since because it truly is a wonderful cause. Russ and I believe in neighbor helping neighbor and contributing to NCCF is a great way to do that."
Get in Touch. Get Involved.
Subscribe to our quarterly newsletter