The Nelson County Community Fund helps people make a difference by inspiring the spirit of giving and by investing in people and solutions to benefit the entire community. We work to ensure equity, access, and opportunity for all the residents of our county.
Blue Ridge Medical Center / Rural Health Outreach Program
Medication Assistance Program
Latino Health Outreach
NCCF Grants Benefit Blue Ridge Medical Center
NCCF has provided grants to support various programs of Blue Ridge Medical Center since 2000. We are proud that our funding has enabled Blue Ridge Medical Center to "provide patient-centered, quality care accessible to all people of Nelson County" and "to improve their general health and well being through prevention, education, and treatment."
Blue Ridge Medical Center is celebrating its 30 Anniversary, having opened in the summer of 1985. For more information on BRMC, click here to read their Annual Report 2015.
Monticello Area Community Action Agency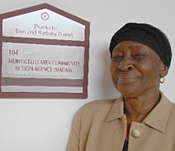 Outreach
Emergency Services
Scholarship Program
Monticello Area Community Action Agency (MACAA)
Our Mission: To improve the lives of people with low income by helping them become self-reliant, thereby enhancing the economic vitality and well-being of our community.
The Monticello Area Community Action Agency (MACAA) has been serving families in the Charlottesville area since 1965. MACAA's service area includes the City of Charlottesville, and the Counties of Albemarle, Fluvanna, Louisa and Nelson. As a Community Action Agency authorized by the Economic Opportunity Act of 1964, (one of more than one thousand nationwide), MACAA's overarching goal is to improve people's lives by helping them become self-reliant. MACAA achieves this through a variety of programs and skill development initiatives serving families and individuals below 125% of the Federal poverty level.
Rural Outreach offices in Fluvanna, Louisa and Nelson Counties provide crisis intervention to hundreds of families through assistance with food, clothing, and financial help with housing, fuel, utilities and other emergency situations. Rural Outreach staff assess clients' circumstances beyond the immediate situation and link these low-income families with a wide variety of organizations and services to meet their many needs.
Financial education workshops (Budgeting and Credit Repair) offered through MACAA's Steps To Success program are now being scheduled in Fluvanna, Louisa and Nelson Counties. Call MACAA's Outreach offices for times and locations.
Tax preparation services are offered each year at various times and locations throughout the area in conjunction with MACAA's partners in the United Way EITC (Earned Income Tax Credit) Coalition. Call MACAA or the United Way Thomas Jefferson Area for details.
Nelson Outreach Office:
Margaret Morton
Nelson Senior Center
8445 Thomas Nelson Hwy
Lovingston, VA 22949
434-263-8119
nelmacaa@macaa.org
Website
Project Discovery promotes academic achievement as a means of propelling high school students from low-income families out of poverty, and specifically focuses on encouraging and helping these students prepare for and pursue a college education. Approximately 120 Project Discovery students each year, many of whom are the first in their family to pursue post secondary education, receive assistance with college applications, locating financial aid, career planning, and academic preparation. Students participate in campus visits and are exposed to cultural activities and experiences outside of their usual environment to help them choose a "best-fit" school and prepare for a successful college experience. Project Discovery serves students in Charlottesville, Albemarle, Fluvanna and Nelson Counties.
Nelson County Community Development Foundation
First Time Home Buyers
Indoor Plumbing Rehab
Emergency Repairs for Elderly and Disabled
The Nelson County Community Development Foundation (NCCDF)
The Nelson County Community Development Foundation (NCCDF) was organized in 1985 "to foster and promote community development that primarily benefits low- and moderate-income citizens of Nelson County, providing funds, personnel and other assistance for the development of housing, health, water and wastewater facilities, education, recreation and economic development."
The NCCDF provides housing services through many programs, including First Time Homeowners, Indoor Plumbing and Owner-occupied Rehabs, Emergency Repairs for Elderly and Disabled and a Revolving Loan Program for a variety of purposes. NCCDF purchased its first Rent-to-Own Home in 1999, and plans to develop 10 additional rental properties in the next five years.
Accomplishments

The foundation's first project was a 34-home subdivision for working poor families that received state and federal awards of excellence. Since 1985, the foundation has built 70 homes and rehabilitated 105 homes, or the equivalent of 3% of the occupied housing in our county. In addition, the foundation administers Housing Choice Vouchers for 44 families in Nelson.
In addition to our housing services, the NCCDF is also partnered with The Jefferson Area Board for Aging to restore a 1932 high school into the Nelson Center, a $2.4 million project that will provide intergenerational day care, recreation, physical health services, adult learning and community meeting facilities. We are also teamed with JABA on the conversion of another old elementary school into 31 independent living apartments for low-income seniors.
Contact Info:
George Krieger, Executive Director
P.O. Box 57
Lovingston, VA 22949
Phone: (434) 263-8074
Fax: (434) 263-8537
Email: gknccdf@aol.com