The Advisory Committee of Nelson County Community Fund
will hold a donor reception with Wine, Cider and Cheese
on Thursday, October 26, 4:00 – 6:00 p.m.
at the Blue Toad Cidery at High View Farm
462 Winery Lane, Roseland, VA 22967
Kindly RSVP by October 19th to
nccfund@gmail.com or 434-260-1843
We are grateful to Todd Rath and the Blue Toad Cidery for hosting this event to recognize those who have given generously to the Nelson County Community Fund over the past year.
Click here for directions to the Blue Toad Cidery.
The Blue Toad Cidery website is bluetoadhardcider.com
The Last Blast of Summer
Co-Sponsored by Nelson County Community Fund and Rockfish Valley Community Center
September 10, 2017
at RVCC's Blue Mt. Pavilion

Advisory Committee members Donna McCurdy (left) and Sue Love (right) pinch hit as bartenders.

Unity in Community volunteers help Advisory Committee member Carole Saunders with the bake sale.


Stu Mills,RVCC executive director, Scott Duncan, and Frank McCurdy grilled burgers and hot dogs.


Dave Francis, Central District School Board candidate for reelection, waits to be dunked in the dunk tank.

Many thanks to our sponsors who helped to make this event possible:
Blue Mt. Brewery, PowerPlay Charlottesville, Veritas Winery, Tiger Fuel, Blue Ridge IGA, Rockfish Gap Country Store, and Rockin' Ice CreamScoops


Nelson County Community Fund was featured in an article in the Nelson County Times. To check out the article, click here:
Community fund benefits hundreds of Nelson residents
– by Emily Brown
– May 23, 2017
Members of the Advisory Committee attend the 11th Opportunity Ball at Veritas Winery on March 11, 2017. Pictured left to right, front row: Donna McCurdy, Op Ball, Co-chair; Ika Joiner, Op Ball, Co-Chair; Joe Steele, Sue Love, Sarah Jane Stewart, and Carole Saunders. Back row, left to right: George Krieger, Connie Brennan, Andrew Hodson, Peter Agelasto and Jane Francis.
Please make a contribution to the Nelson County Community Fund which will have a direct and sometimes life changing impact on people living in Nelson County.
You may make your contribution to NCCF in two ways:
You may write a check made payable to NCCF and mail it to:
Nelson County Community Fund
P. O. Box 253
Nellysford, VA, 22958
OR
you may click on the link below which will take you to the website of Charlottesville Area Community Foundation where you can make your contribution directly to the Nelson County Community Fund by credit or debit card via a secure transaction. You will receive an immediate confirmation of your contribution to NCCF. However, please be aware that there is a 3.25% fee for using this credit card feature, which will be charged to NCCF. You may want to increase the amount of your contribution to cover this additional expense.
Thank you for caring and for sharing!
What is the Nelson County Community Fund?
The Nelson County Community Fund (NCCF) was established to help those in need within Nelson County.  NCCF operates with a totally volunteer Advisory Committee as a committee-advised fund that makes grants to local charitable organizations and agencies with the expressed goal of improving the life of Nelson County residents. Much of our work is accomplished by collaborating with nonprofits, funders, community leaders, and other partners to tackle important issues in our county. The NCCF operates under the charter of the Charlottesville Area Community Foundation (CACF) – a 501(c)(3) organization that oversees the NCCF's unrestricted general and endowment funds.
NCCF works by collecting funds from generous donors and by fund raising through events such as the yearly Opportunity Ball. These dollars are invested in local charities that have applied through grant applications.
Charlottesville Area Community Foundation Website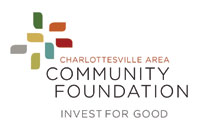 Nelson County Community Fund
P.O. Box 253 Nellysford Virginia 22958
(434) 260-1843
Please get in touch with us if you are interested in learning more about the Nelson County Community Fund. We also welcome your questions, comments, and suggestions. The fields in the contact form that are marked with an asterisk are required.