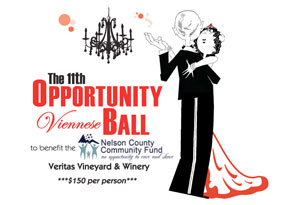 The 11th Opportunity Ball
Saturday, March 11, 2017 at 6:30 p.m.
Tickets: $150
Tickets and Dance Lessons: $190
Please make a contribution to the Nelson County Community Fund which will have a direct and sometimes life changing impact on people living in Nelson County.
You may make your contribution to NCCF in two ways:
You may write a check made payable to NCCF and mail it to:
Nelson County Community Fund
P. O. Box 253
Nellysford, VA, 22958
OR
you may click on the link below which will take you to the website of Charlottesville Area Community Foundation where you can make your contribution directly to the Nelson County Community Fund by credit or debit card via a secure transaction. You will receive an immediate confirmation of your contribution to NCCF. However, please be aware that there is a 3.25% fee for using this credit card feature, which will be charged to NCCF. You may want to increase the amount of your contribution to cover this additional expense.
Thank you for caring and for sharing!
WINTER 2017 GRANT AWARDS
The Advisory Committee of the Nelson County Community Fund announces the Winter 2017 funding for eight grants from six nonprofits serving the people of Nelson County.  The grant awards total $83,000. 
Funding will be awarded to the following organizations: Monticello Area Community Action Agency (MACAA) for Project Discovery (support and scholarships for Nelson County High School graduating seniors), and Community Outreach (assistance for emergency rent, utility payments, and other crisis intervention); Blue Ridge Medical Center for the Medication Assistance Program (to help purchase medications for uninsured and underinsured patients through arrangements with pharmaceutical companies) and for the Rural Health Outreach Program (education, preventive health services, care navigation and primary care for low-income, uninsured people); Blue Ridge Interfaith Ministry for assistance with electricity and fuel bills; Virginia College Advising Corps for the placement of a college adviser at Nelson County High School; The Nature Foundation at Wintergreen (for environmental education with field trips and a wish list for teachers); and Nelson Kid Care (to purchase supplemental food for children in Nelson County Public Schools to take home over the weekend).

For more information on NCCF's grant funding, click here.
What is the Nelson County Community Fund?
The Nelson County Community Fund (NCCF) was established to help those in need within Nelson County.  NCCF operates with a totally volunteer Advisory Committee as a committee-advised fund that makes grants to local charitable organizations and agencies with the expressed goal of improving the life of Nelson County residents. Much of our work is accomplished by collaborating with nonprofits, funders, community leaders, and other partners to tackle important issues in our county. The NCCF operates under the charter of the Charlottesville Area Community Foundation (CACF) – a 501(c)(3) organization that oversees the NCCF's unrestricted general and endowment funds.
NCCF works by collecting funds from generous donors and by fund raising through events such as the yearly Opportunity Ball. These dollars are invested in local charities that have applied through grant applications.
Charlottesville Area Community Foundation Website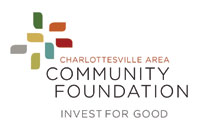 Nelson County Community Fund
P.O. Box 253 Nellysford Virginia 22958
(434) 260-1843
Please get in touch with us if you are interested in learning more about the Nelson County Community Fund. We also welcome your questions, comments, and suggestions. The fields in the contact form that are marked with an asterisk are required.