Summer Grant Applications Due: June 30, 2016
SAVE THE DATE: SATURDAY, JULY 30, 2016
Rockfish Valley Community Center and Nelson County Community Fund are sponsoring a joint fundraiser and fun day for families.
The Beach Blast will be held on
Saturday, July 30, from 4:00 to 9:00 p.m. at RVCC.
Click for RVCC website.
Admission fee:
Adults: $10.00
Students (11-18): $5.00
Children (10 and under): free
Click here for a flyer
Food and beer will be provided by Blue Mountain Brewery.
Hard cider will be provided by Blue Toad Cidery.
Local wines and ice cream will be available for purchase.
Music will be provided by the band Soul Transit from 6:00 – 9:00 p.m.
Plan to come out to dance to the Oldies and Goodies, including beach music and Motown favorites!
Children's activities will include face painting, bubbles, hoola hoops, beach balls, sitting in a fire truck and much, much more!
There will be a dunking booth!
Stay tuned for the schedule of the "dunkees"!
Come out and view the Nonprofit Showcase –
displays of area nonprofits which have received grant funding from NCCF in order to help Nelson County residents!
Sponsorship opportunities are still available. For more information on becoming a sponsor of the 2016 Beach Blast, click here.
Best of all, the funds raised will help to support the programs and facilities at RVCC and to provide grant funding for Nelson County nonprofits from NCCF!
What is the Nelson County Community Fund?
The Nelson County Community Fund (NCCF) was established to help those in need within Nelson County.  NCCF operates with a totally volunteer Advisory Committee as a committee-advised fund that makes grants to local charitable organizations and agencies with the expressed goal of improving the life of Nelson County residents. Much of our work is accomplished by collaborating with nonprofits, funders, community leaders, and other partners to tackle important issues in our county. The NCCF operates under the charter of the Charlottesville Area Community Foundation (CACF) – a 501(c)(3) organization that oversees the NCCF's unrestricted general and endowment funds.
NCCF works by collecting funds from generous donors and by fund raising through events such as the yearly Opportunity Ball. These dollars are invested in local charities that have applied through grant applications.
Charlottesville Area Community Foundation Website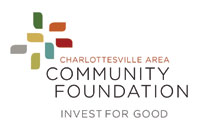 Nelson County Community Fund
P.O. Box 253 Nellysford Virginia 22958
(434) 260-1843
Please get in touch with us if you are interested in learning more about the Nelson County Community Fund. We also welcome your questions, comments, and suggestions. The fields in the contact form that are marked with an asterisk are required.