NCCF Awards $46,500 to Nelson Nonprofits in Summer 2018 Cycle
The Nelson County Community Fund has awarded much needed funds to eight non-profits serving county residents for this fall. Three of the organizations are providing resources to deal with the impact of opioid/meth addiction crisis on families.
"It is a sign of the times in which we live that this addiction problem has come to dominate requests for resources to help some of the neediest in our community," said NCCF co-chair Jane Francis.
The three organizations receiving funds to address substance abuse and addiction are The Bridge Ministry (focusing on male addicts), Georgia's Healing house (focusing on female addicts), and DePaul Community Services (providing foster care for children impacted by addicted parents). Other organizations receiving grants are Unity in Community (providing clothing donations, financial assistance, and emergency housing referrals), and the Nelson County Community Development Foundation (providing emergency home repairs for elderly and disabled persons). Two more grant recipients focus on the health and welfare of growing children: Girls on the Run, a wellness and esteem-building program for elementary school-aged girls, and Nelson Kid Care, which packs supplemental meals for qualified students for weekends.
The Advisory Committee of Nelson County Community Fund reviews grants and makes recommendations to the Board of Charlottesville Area Community Foundation for funding (CACF).  NCCF is a Committee-advised Fund of CACF.
NCCF relies heavily on donations from Nelson County residents and local businesses to supplement its grant-making. The Advisory Committee welcomes inquiries from individuals interested in serving on the committee, and from businesses and other organizations willing to partner on fund-raising events. For more information on donation or fund-raising opportunities, visit nelsonfund.org.
Note: Watch this space for future profiles on NCCF grant-recipients and how they are putting donation dollars to work for your Nelson County neighbors.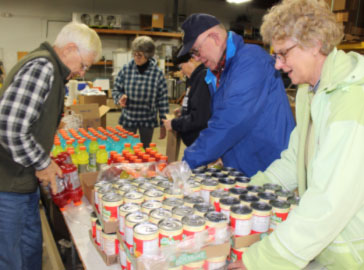 Nelson County Kid Care volunteers prepare supplemental meals for school children to take home for the weekend.

The Nelson County Community Development Foundation helps disabled and elderly residents make adaptations to stay in their homes.
MAKE A CONTRIBUTION TO THE NELSON COUNTY COMMUNITY FUND.
Your tax-deductible contribution will have a direct and sometimes life changing impact on the people on Nelson County.
You may write a check made payable to NCCF and mail it to:
Nelson County Community Fund
P. O. Box 253
Nellysford, VA, 22958
OR
OR YOU MAY MAKE A DONATION BY CREDIT CARD.
You may click on the link below which will take you to the website of Charlottesville Area Community Foundation where you can make your contribution directly to the Nelson County Community Fund by credit or debit card via a secure transaction. You will receive an immediate confirmation of your contribution to NCCF. However, please be aware that there is a 3.25% fee for using this credit card feature, which will be charged to NCCF. You may want to increase the amount of your contribution to cover this additional expense.
Thank you for caring and for sharing!
What is the Nelson County Community Fund?
The Nelson County Community Fund (NCCF) was established to help those in need within Nelson County.  NCCF operates with a totally volunteer Advisory Committee as a committee-advised fund that makes grants to local charitable organizations and agencies with the expressed goal of improving the life of Nelson County residents. Much of our work is accomplished by collaborating with nonprofits, funders, community leaders, and other partners to tackle important issues in our county. The NCCF operates under the charter of the Charlottesville Area Community Foundation (CACF) – a 501(c)(3) organization that oversees the NCCF's unrestricted general and endowment funds.
NCCF works by collecting funds from generous donors and by fund raising through events such as the yearly Opportunity Ball. These dollars are invested in local charities that have applied through grant applications.
Charlottesville Area Community Foundation Website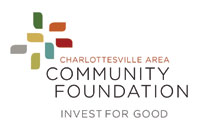 Nelson County Community Fund
P.O. Box 253 Nellysford Virginia 22958
(434) 260-1843
Please get in touch with us if you are interested in learning more about the Nelson County Community Fund. We also welcome your questions, comments, and suggestions. The fields in the contact form that are marked with an asterisk are required.