Opportunity Ball 2017 Photos!
The Ball Begins at 6:30 p.m.
Note for Meal Choice:
In the space provided below, kindly indicate Meat or Vegetarian meal choice. And indicate quantity of each. Thank you.
OUR LIVE AUCTION ITEMS
With Auctioneer James Munsey:
Holland America Cruise:
Choose up to a ten-day cruise for two in an ocean-view stateroom (upgradeable) on any Holland American Line ship. Travel to Alaska, the Caribbean, Europe – you take your pick. Enjoy international cuisine, shipboard activities and entertainment or simply leisurely days reading and admiring the lovely vistas. Donated by Linda Hobson, Land and Sea Travel, and Holland America.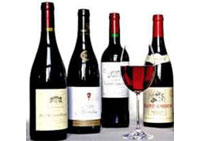 One Case of Men's Wine Corps Wine:
The Wintergreen Men's Wine Corps has donated a case of exquisite international wines, including an assortment of Men's Wine Corps favorites. Share in the expert evaluations and choices of these connoisseurs of the "water of life." Donated by Men's Wine Corps.
Veritas Farmhouse Stay PLUS MORE:
Eight lucky couples will enjoy an overnight stay at the Farmhouse. Included are a wine hour, a four-course dinner with wine pairings, and a gourmet breakfast the following morning. The afternoon of your arrival there will be a "back stage" tour of the Veritas Winery and vineyards and a wine tasting hosted by owner Andrew Hodson. Offer is for any Sunday through Thursday nights.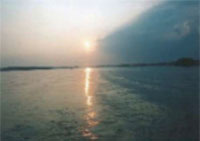 Smith Mountain Lake Retreat:
Enjoy a week's vacation at a waterfront home on Smith Mountain Lake where fishing, hiking, swimming, boating and golfing are at your doorstep. This spacious house sleeps 20 in its six bedrooms (including a bunk room). Tie your boat up at the dock or view sunsets over the lake from the party deck. There are so many other wonderful features at this house for you to enjoy. Available anytime from September, 2017 through the summer of 2018. Perfect for a get-away vacation or a family reunion!! Donated by Kim and Todd Rath.
Wyoming Getaway:
Enjoy a four-day stay, three-night stay for a family of 4 at the luxurious Bentwood Inn located on 3 acres in Jackson Hole, Wyoming. The guest rooms suite has a personal fireplace, private bath, flat screen cable television and wireless internet. Large expansive decks provide space to relax amid the privacy and solitude offered by majestic old growth cottonwoods and pines. Your stay includes a multi-course breakfast and wine and cheese daily. To fully experience the spectacular scenery and outdoor activities of this region, your getaway also provides for a dog-sledding adventure as well as a tour of beautiful Hot Springs. This trip is valid January through March, 2018.
Austrian Alps Experience near Salzburg:
Experience a vacation for two in the Alps – your choice of season at either the Alpenland Sporthotel in Maria Alm or the Alpenland Sporthotel in St. Johann. In the winter try the numerous large ski areas or, in the summer, mountain biking, cycling, golf, and hiking. Numerous road tours from either resort allow for a close-up view of the natural features as well as the culture and history of the State of Salzburg. Go to the website (www.alpenland-sporthotels.com) to decide which destination best suits your vacation goals, and pick your travel dates! Expires September 30, 2018. Donated by Pat and Stu Harvey.
Dinner for 12 at beautiful historic Pharasalia:
Get a group together and enjoy the historic and warm hospitality of Pharasalia for dinner prepared by the well-known chefs at Hungry Fox Catering. A fine selection of wine included. Donated by Foxie and Dick Morgan and Hungry Fox Catering.
Guided Van Tour of Rockfish Valley Historic District and Southern supper at Elk Hill for 12:
Tour together by van, as a local guide provides insights to the history of this beautiful area. Enjoy a traditional Southern Supper with friends at historic Elk Hill. Tour and supper provided by Betsy and Peter Agelasto, who are extending a warm welcome to their beautiful Elk Hill home. Van provided by Kim and Todd Rath.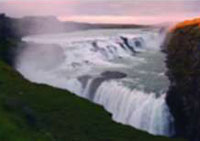 Iceland for Two:
Five nights in Reykjavik with tours to the UNESCO World Heritage Site, the Pingvelir National Park. Experience the amazing Northern Lights! Explore Iceland's magnificent countryside – Waterfalls, Geothermals, Geysers, and Rugged Coastline. Valid through 8/1/2018.
SILENT AUCTION ITEMS
Sterling silver jewelry: These stunning sterling silver bracelets were designed and created by well-known local artist Candy Krop. Donated by Candy Krop
Ceramics by Pat Yoder: This sugar bowl and creamer set, with Blue Ridge mountain motif, was created by the artist in her Nellysford studio. Donated by Pat Yoder
Wine glasses, hand-painted by artist Emily Hunt: Sip your Chardonnay in style with these lovely glasses painted with "The Priest" mountain in mind! Donated by Emily Hunt
Hand-blown glass art: This exquisite piece will be a A wonderful addition to your home, or an incredible gift to a lucky friend. "Light is always dancing on the surface of glass or singing softly inside the form." Donated by Glass Artist Charles Hall
Quilt Art: Hand-quilted artistic hanging by artisan Jane Fellows will adorn your walls in style. Donated by Jane Fellows
Pieces of painted glass art: These artistic pieces must be seen to fully appreciate the colorful nuances of the work. Donated by Danny Watson and friends
Watercolor print by artist Russell Fisher: "The Covesville Country Store" by this very talented artist will be a lovely and charming addition to your collection. Donated by Russell Fisher
Drawings by Abbey Noelle: Stunning images of the "Black Wolf" and Kissing Bunnies" were created by our local artist. Donated by Abbey Noelle
Wood and Copper Art: Thomas Jacobs and Annie Jacobs created these two wonderful eye-catching pieces. Donated by Thomas and Annie Jacobs
Lovely Uniquely Crafted Watercolor – by artist Rita Harder Johnson: "Celebrating the beauties of nature one brushstroke at a time" Donated by Rita Harder Johnson
Original watercolor by Nancy Maxson: This beautiful painting by the well-known artist and poet will delight your eyes every time you view it. Donated by Nancy Maxson
Stained Glass artwork by Vee Oswolds: Colorful stained glass artwork by this artist will be a welcome addition to your home or gift to a friend. Donated by Vee Oswolds
Jewelry by Nurse-made Patti: Using vintage art, the artist has made a one-of-a-kind piece that will be sure to delight. Donated by Patti Siehien
Hand-woven hat: Using their impressive decorative knitting and weaving skills, Susan and Ron Salomon of Button Bay Fiber Arts created this beautiful piece. Donated by Susan Salomon
Original photograph: Well-known photographer Kathy Bonham captured these gorgeous "extreme" images. Donated by Kathy Bonham
Framed color photograph of the Vienna Ferris Wheel: Photographed and Donated by Lewis Dunn
Hand turned wooden bowl: Created by the multi-talented Henri Weems using Ambrosia Maple. Donated by Henri Weems
Flying Fairy: You will be enchanted by this lovely work by Becky Olsen. Donated by Becky Olsen
Hand carved wooden plate: Be astonished by the intricate wood carving by Arne Olsen. Donated by Arne Olsen
Art from war: Marvel at what these Ethiopian women have created from the ARTifacts of war (spent ARTillery shells). Donated by Danielle Hopkins
Animal masks: Bring out your inner fox or gazelle at your next masked event. Donated by Catherine Dunne
Unique framed antique jewelry: Can be hung on the wall or placed on a stand–Fascinating. Donated by David Hall.
Nature Photography: Attention bird lovers. This is a must have. Donated by Linda Lee Wilkes
Award winning wooden toy maker: Admire this creative wooden toy by Robert Wilkes. Donated by Robert Wilkes
Gold Jewelry: 14k gold necklace with 14 K gold pendant by K. Robbins. Donated by K. Robbins
Symbolic Silver Jewelry: Also by K. Robbins. Donated by K. Robbins
Viennese Gift Basket: Continue to enjoy all things Viennese. Contains Trager Bros. Viennese Coffee, cups, and Klimt Book with portrait of "Adele Bloch-Bauer II". Donated by Sue and Cliff Love
6 Integrative Yoga Classes with Agnes Schrider: Agnes is not only a certified yoga teacher but also a physical therapist and integrates anatomy, mindfulness and wellness for safe and fun classes. Classes are: Mondays, 8 – 9am; Wednesdays 8:30 – 10am; and Fridays from 9 – 10am. Donated by Agnes Schrider
5 Yoga Classes with Sandra: Enjoy the invigorating power of yoga as you work with Iyengar-certified instructor Sandra Pleasants. All levels welcome, Monday or Tuesday each week at RVCC. Donated by Sandra Pleasants
8 Exercise Classes: Suffering from arthritis? Then this is THE exercise class for you – Tuesdays and Thursdays from 9 – 10am each week at RVCC. Donated by instructor Linda Hobson
One-hour massage at Heavenly Hands: Savor the relaxing atmosphere as you enjoy a rejuvenating massage by local massage therapist Linda Baker. Donated by Linda Baker
Dinner for 4 at Basic Necessities: a French jewel in the Virginia mountainsMountains: Enjoy fabulous gourmet dining at this charming restaurant in Nellysford. Take home a Basic Necessities Cookbook so you can try to replicate some of their marvelous dishes! as well! Donated by Kay Pfaltz
Dinner at the Ivy Inn Restaurant: Feast on locally inspired favorites by renowned Chef/owner Angelo Vangelopoulos at this highly acclaimed Charlottesville restaurant. Gift Certificate for $125. Taxes, Tips and Alcohol not included in the gift certificate. Donated by Angelo of the Ivy Inn
Dinner for 2 at The Shack: Enjoy a dinner of farmer's market-quality ingredients, cooked simply and with a master's touch by Chef Ian at this amazing restaurant in downtown historic Staunton. Donated by Ian Boden
Lunch for 4 at Bold Rock Cidery: Drink a pint of apple or pear cider and have a wonderful lunch, all while enjoying the gorgeous mountain views. Donated by Thomas Washburn
Founding Fathers Gift Basket: Celebrate America and our founding fathers: Contains 4 tickets to each of Highland (James Monroe), Monticello (Thomas Jefferson), and Montpelier, (James Madison). Tickets Donated by Highland, Monticello and Montpelier. And as a special bonus, the gift basket contains the two CD set of the hit musical "Hamilton", as well as the illustrated book, "Hamilton, the Revolution". Donated by Donna McCurdy and Ika Joiner
Starry Nights at Veritas: 10 General Admission Tickets. Donated by Patricia and Andrew Hodson
Lovely Flower Bouquets each month from June to October from Blue Heron Farm: Donated by Beverly Lacey, co-owner
Wild Wolf Brewery $50 Gift Card: Donated by owner Mary Wolf
Blue Mountain Brewery $50 Gift Card: Donated by owners Mandi and Taylor Smack
Devil's Backbone $50 Gift Card: Donated by Devil's Backbone Brewing Company
Basket of Viennese Pastries: Created by local pastry chef Coral Kemp, this will be sure to satisfy your sweet tooth! Donated by Coral Kemp
Flower Arrangement by Sharon Gress: for Mother's Day. Donated by Sharon Gress
Brand new local Bed and Breakfast on Ennis Mountain Road: Enjoy a luxurious one night stay at Ad Astra BnB. Includes a bottle of Veritas Wine and fresh flowers in your room. Donated by Kris Obertone